In 1993, Steve Black opened his vacuum store in Plano, TX. Accompanied by wife Gloria and son Eric, Steve Black's Vacuums primarily sells Riccar vacuums and scented products from their family-owned business. But it's not just selling vacuums that excites these lifelong Texans. They're most proud about offering what they call "old-school customer service."
With chain stores on every corner, there's no shortage of vacuum cleaners in Plano, but there's no support for selecting, assembling, operating or maintaining the vacuums, according to Steve. He says, "You don't get the service anymore. They even put directions inside the boxes – 'Do not bring back to the store.' But if you buy a vacuum from us and you have a problem, we take care of it. You're going to be treated the right way, with honesty."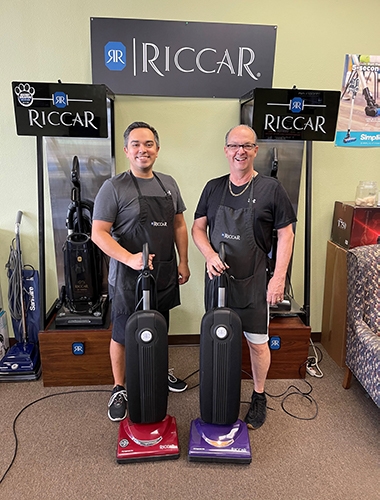 Challenges of running a family-owned business
After nearly 30 years, Steve still sells and services vacuums every day but Sunday. Running a family-owned business has its challenges, not just with the long hours, staffing and not having much personal time. Covid has been the Black's biggest challenge to date. "It completely changed the world and our industry," Steve says. Gloria learned that their business was considered essential and could remain open during the pandemic, which was good for business, but made conducting business much harder. "It was very stressful, and I did more praying in three years than in the last 23," Steve says. "I had people looking for Lysol everywhere to purchase for us so we could keep our stores sanitized. And Gloria was making masks out of Riccar HEPA bags. From March til May we worked completely separate. The pandemic made us more thankful, more appreciative and more prayerful."
Why Riccar?
As an "old school" proprietor who would still like to rely on a handshake and word of mouth to grow his business, Steve values loyalty not just from his customers, but also from Riccar. He initially bought Riccar vacuums through a distributor out of Cypress and Grand Prairie, Texas. His rep would load up the car and deliver the vacuums to him personally. Through the years, the Blacks have developed solid relationships with Riccar sales reps and know everyone in technical support and marketing by name. "We can get you whatever you want, but we are Riccar people. We sell other brands, and we give the same service to everyone, but we are hard-working and responsible, and Riccar looks out for us."
The Future is Black
Steve Black's son, Eric, has been in the business for over 25 years and has learned everything from Steve and Gloria. The customers have seen him grow up and they love him. With a busy store, strong presence in the community and solid foundation online, Steve Black's Vacuums is in great position for future generations to shop.
Riccar will continue to support independent retailers like the Blacks. Learn more about Steve Black's Vacuums here. Find your local Riccar retailer here.